Marketing to Humans: How to Use Personas to Make Marketing Decisions
Personas lay the foundation on which agencies build their marketing strategies upon. Without them, when it comes to targeting your messaging and content, you're simply guessing at what your consumers want to see from your brand.
Because they inform every aspect of your marketing strategy, it's crucial to get them right. And it's why we start any new project with a new company with an initial Discovery.
This "Discovery" – known as "capital D, Discovery" around our office – is almost like an investigation into a brand. We take all the company's current data that we can get our hands on, as well as lean any plans about where a company would like to see themselves.
Through that Discovery, we create personas informed by data. By developing and studying these personas, we can thoroughly learn about the customer's online behavior, which then allows you to use these personas to adapt your lead generation strategies.
Previously, we've discussed how to develop personas, what they should include and how to use them to market to real humans. But we didn't go into how these personas inform marketing decisions.
By understanding your target audience, and seeing their demographic and psychographic information, brands learn how to tailor messaging to each segment of their audience.
These personas inform brands where their consumers spend time online and what kind of content they engage with – and even what their target audience does not engage with. This information will not only benefit your marketing strategy, but it will also ensure dollars are not wasted where dollars are not spent.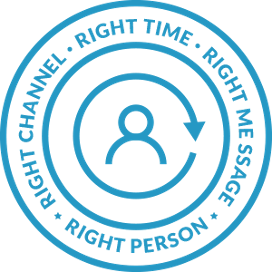 Leap Amp, our media + amplification agency, lives by the phrase "Right Person. Right Message. Right Channel. Right Time."
Meaning, based on personas, we ensure the right messages are delivered to the right audience on the right channel they are spending their time online, at just the right time they are on those mediums. And by working with our Analytics + Insights team, we are able to know each of these points about target audiences.
It's no surprise that marketing to everyone is not good for business – marketing personas offer better customer segmentation essential details that can empower your strategy to bring in more qualified leads. This deeper knowledge allows you to create more targeted messaging that's efficient and tailored to your customer.
We're all about transparency. Whatever we can glean from campaigns, we share with the brand. We utilize social monitoring tools to ensure social content is engaging and relevant to ever-changing audiences and trends. This software, and many others, are put into a digital dashboard that collects real-time data.
Through this dashboard, marketing work with clients is no longer transactional. Clients are privy to the same numbers our team is collecting, in real-time. These dashboards are how we know our recommended marketing strategy is working, or it if needs to be optimized in real-time.
Using your brand's customer personas are a key step in strategically marketing the right messaging to the right customers and can help in making high level decisions for your brand that put the customer at the forefront.