Streams of light crawled over century-old buildings like vines, while a giant disco ball cast scattered reflections across an even older church when BLINK 2019 took over Cincinnati, Ohio. BLINK, one of the nation's largest light-art and projection-mapping festivals, lit up the night in the Queen City and Northern Kentucky, illuminating a brilliant display of art and designs for spectators from across the globe.
At Leap Group, there was even more to be excited about as two of our own, Associate Creative Director Todd Lipscomb and IT Specialist Francisco Cardona, each had pieces represented in the biannual show. Lipscomb's "Upside Wobbles," dreamed up and fabricated by him and the team at his non-profit project Upside America, was an installation created from concrete bases and rising cylinders of multi-colored light that worked together like a squad of weeble wobbles to encourage community and interaction.
Cardona's piece, "Lumen – Wall 2.0," was a dramatically-shifting slab of color-wall that changed tone, brightness and texture minute by minute, enticing each passerby to stop and attempt a selfie. Cardona built the wall with his team at Toti Light, who describe themselves as a rag-tag team looking for creative ways to bring more light into the world.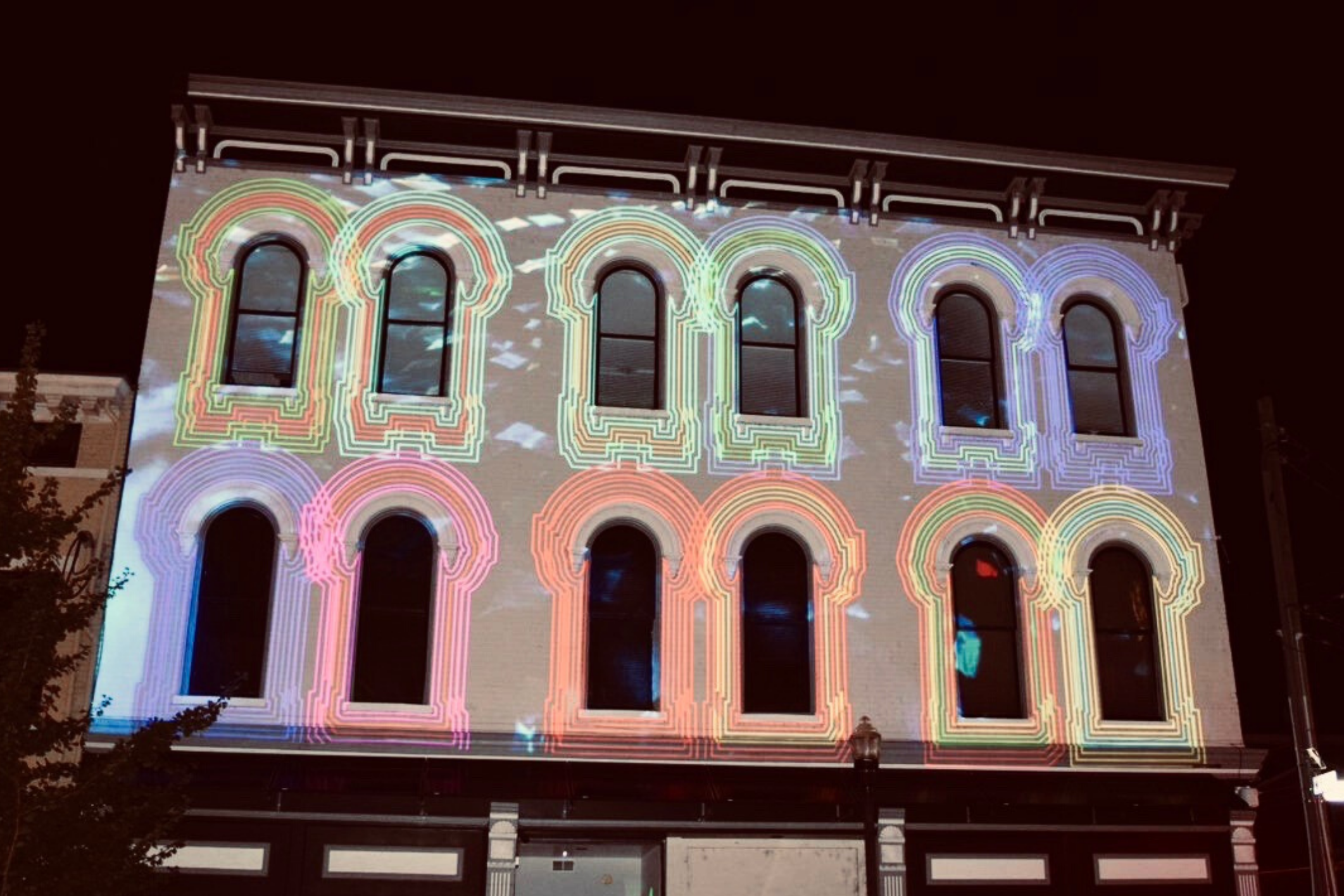 With four agencies spread across three states, collaboration has always been the hallmark of Leap Group – and BLINK 2019 was no exception. Lipscomb, based in Cincinnati, and Cardona, based in Louisville, came together over many months with their teams and each other to design and build their respective installations.
"Showing two projects at Blink was work, collaboration and problem solving for everyone," said Cardona, who was also a part of the Upside America team. "We had to figure out on-the-spot fixes for problems we didn't have during testing. Like, the first night, we didn't consider how much radio interference people would cause while hanging around the Wobbles. We had to run to a Best Buy 15 minutes before closing to amplify the Wi-Fi network. Another night, weather knocked down the Lumen Wall."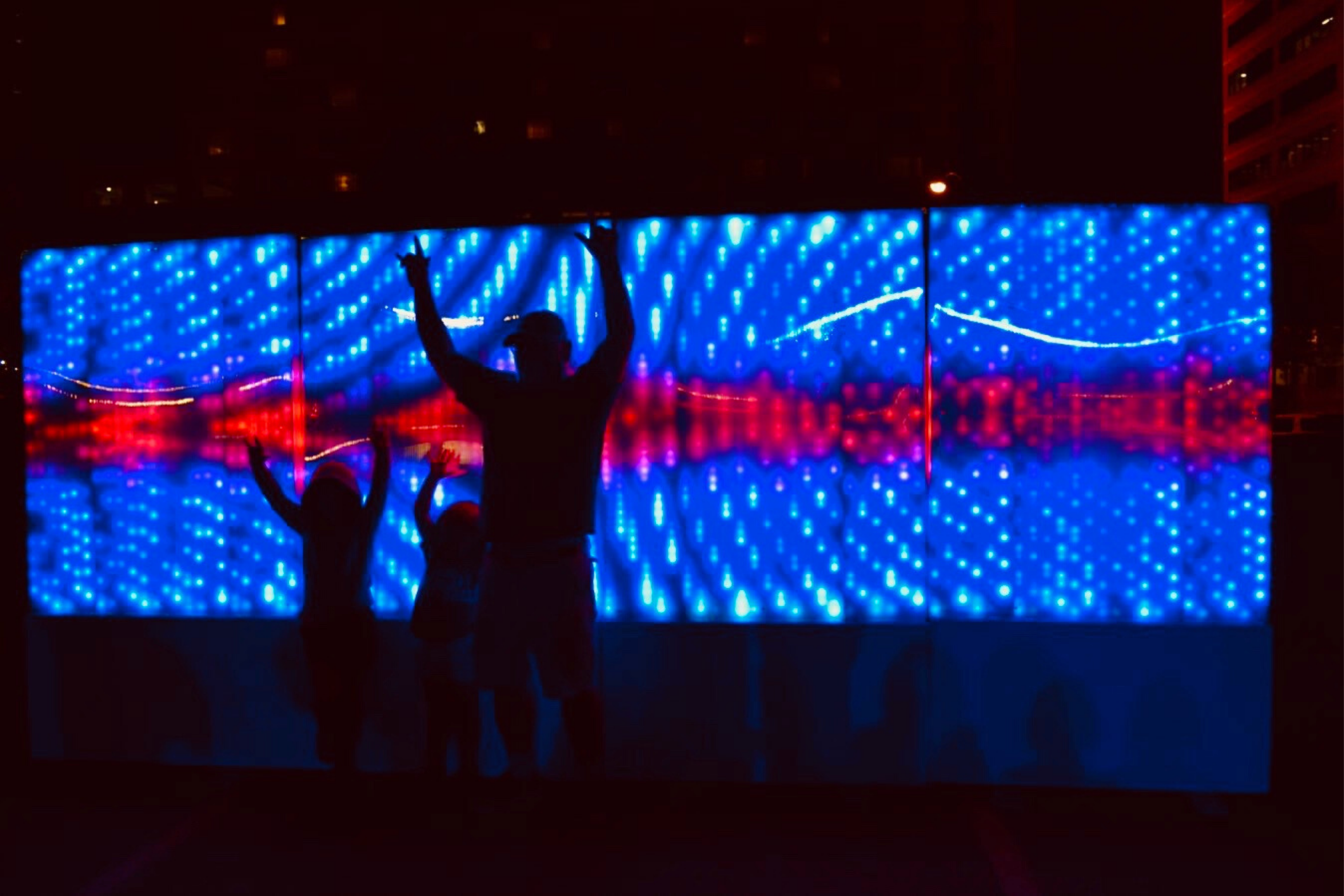 The crowds – more than a million people visited BLINK over its four days – were an interesting element the teams couldn't necessary plan for, said Lipscomb.
"We created "Upside Wobbles" as a way to express resilience but had no idea how their nature would come to represent the process of the artists keeping them going," he said. "BLINK became the ultimate testing ground for the integrity of these prototypes, and in some ways, society itself. In harmony, our piece reached the magical potential we imagined – perhaps even better. In discord, we saw our lovable wobbles bent and defeated, without light or life. We started with 100 on the first night and ended with three by the end. Needless to say, we learned a ton about public installations. But how we stayed pro and together throughout the trying process…I'd do it again, with the same multidisciplinary team and newfound determination to somehow conquer the Wobble – while keeping it upright."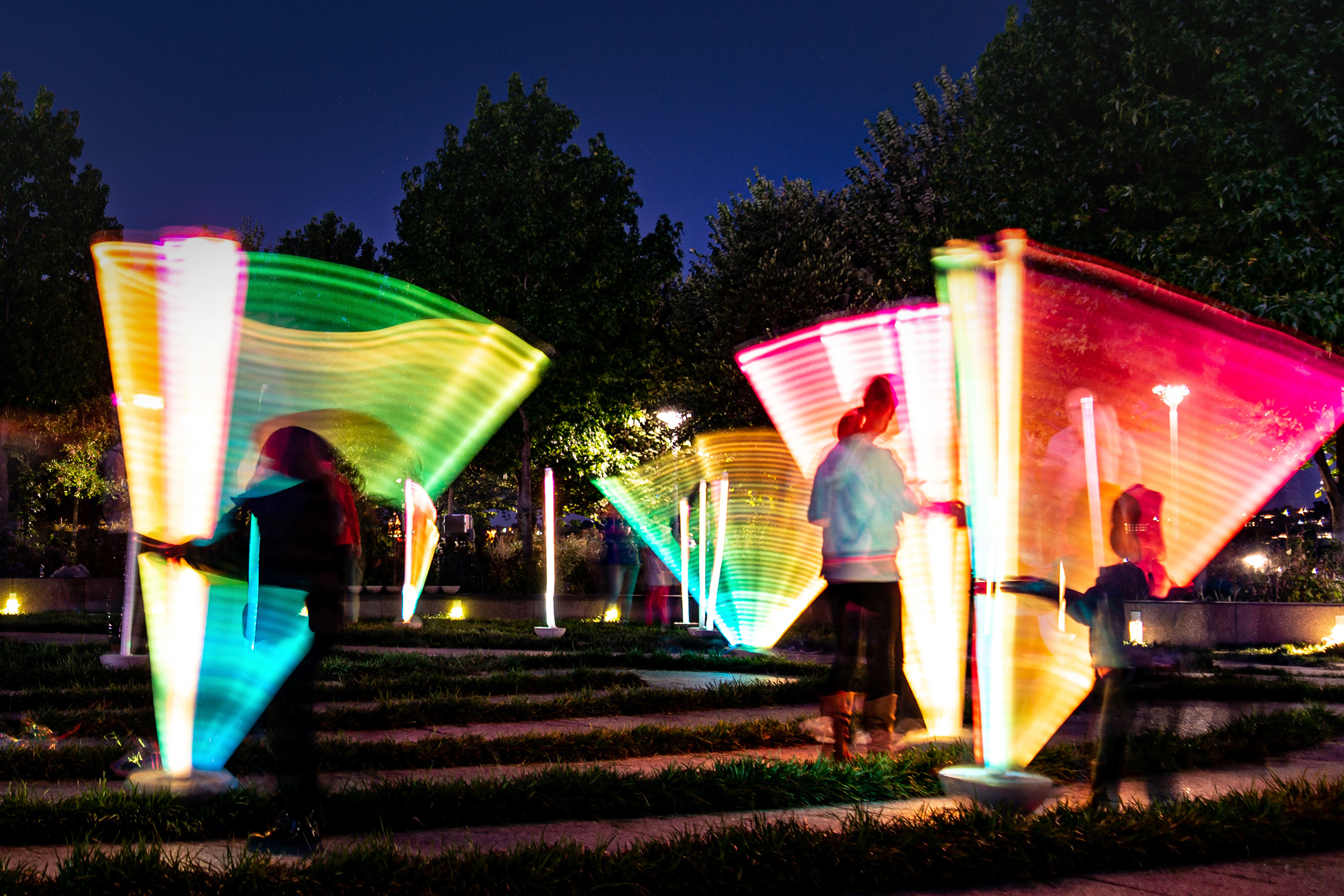 Cardona agreed that the teamwork – and technology – was their savior inside any potential chaos.
"Working across state lines and collaborating on these projects was made easier with tech. Being able to host web meetings with Zoom and Slack, using project management skills and working backwards, trusting in each other's abilities and holding yourself true to your word…RuPaul's word's just kept replaying in my head during the week I lived in Cincinnati: 'You better work!' and 'Don't f— it up!'"
Several members of the Leap Group family travelled to Ohio to take in their teammates work, including Leap Amp Community and Media Manager Chelsea Tuttle and (human)x Copywriter Michael Jester, who also came together in collaboration to document the event's opening night for their studio's Instagram Stories.
"Witnessing BLINK as a first-timer was incredible, and our Cincy-native co-workers were the perfect tour guides," Tuttle said. "Todd and Francisco's exhibits were the highlights for me as I got to experience the fruits of their creative labor firsthand. I had to refrain from telling all the strangers interacting with their exhibits, 'Hey, I know who made this!' because they were that cool. I have a newfound respect for Cincinnati's art scene."
To view more of the BLINK 2019 experience, visit (human)x and Leap Frame's Instagram highlights.
Special thanks to Polyrhythm Studio for sharing their "Upside Wobbles" images.